Feeling Homesick
I'm sorry, Blog. I've neglected you. The truth is, visiting England really threw me.
I visited England in April for a whole month, and it was the best. I hung out with family and friends and saw England with new eyes.
I couldn't wait to get out of England two years ago. I said it was flat, boring, expensive, grey, cold and generally pretty rubbish. I knew I'd miss some things and some people, but I didn't realise just how much.
The Lake District is far from flat and boring. It's stunning, desolate and there are places that still feel wild and raw. We hiked to a tarn and fell asleep on a blanket by the water - perfect. We didn't need a guide. Here, all serious hiking seems to require a guide.
Then there's the beaches in Norfolk, where I spent so many days as a child with my family. We walked through pine forests, and ran through mist rolling on the sand for miles till we met the sea when the tide was out. I miss mist! It was like being in a dream world, blanketed away and only being able to see a few feet in front of you. The sea is cold in England, but this time I loved the iciness when I paddled, and the way the wind whips up your hair into a big salty tangly mess. After the 'loudness' of a tropical country, I loved the difference - the bleak greys, soft blues and stony whites.
"What fortune, I declared, to dwell in such an Eden, but my pleasantry punctured the young man's spirits. 'So I believed in my first days, sir, but now I don't rightly know. I mean, Eden's a spick and span place... but times are, I'd give anything for a North Sea fog.'" --- Cloud Atlas
There were parties, of course, and day trips, mini holidays, dinners and drunken nights out. Glitter, tasty food, and all my favourite music that only me and my friends can enjoy so much. My favourite bar in Nottingham played the song I requested every time I went not long after we stumbled in, and there was lots of dancing and stomping! I spent almost every day in April with the best people in the world.
I love living in Thailand, but I'm homesick. Really, really homesick. I've been away for about two years now, with brief visits, and I miss home, family, friends. I haven't felt like blogging, or doing much of anything since I've been back. I haven't written a word for ages, or taken any photographs.
I started a new job at a new school, and I love it. We've been reading The Wizard of Oz, though, and Dorothy realises that she needn't look any further than her own backyard to find her heart's desire. Gotta admit, I've found talking about 'home' as a theme in the book has been really, really difficult for me.
"No matter how dreary and gray our homes are, we people of flesh and blood would rather live there than in any other country, be it ever so beautiful. There is no place like home." --- The Wonderful Wizard of Oz
Recently we've been out exploring again, though, and I've written this post. I've started to see the beauty of where I live again. I love the mountains and waterfalls, swimming outside every day, drinking coffee on our balcony every morning and driving our motorbike.
Is home wherever you make it so, or is it simply wherever the people you love live?
Someone please invent a teleportation device and let me borrow it...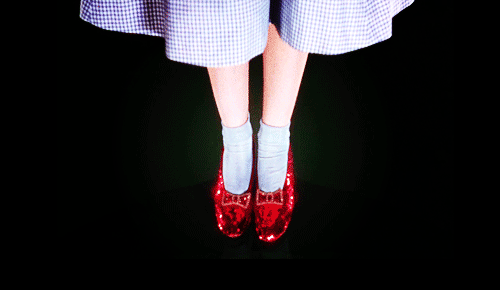 Click your heels together three times... source: